No Golfo do México formou-se a
Tempestade Tropical EDOUARD
que se dirige para o Texas e poderá aproximar-se da intensidade de Furacão até lá.
Os antecedentes do EDOUARD estão no tópico genérico
Previsão e Seguimento Furacões (Atlântico 2008)
Durante uma hora foi a depressão tropical nº 5 mas o avião de reconhecimento continua a registar quedas da pressão bastante rápidas e o NHC classificou como Tempestade Tropical.
WHEN THE RECONNAISSANCE AIRCRAFT PASSED THROUGH THE CONVECTION TO
THE SOUTHEAST OF THE CENTER A SHORT TIME AGO...IT FOUND MAXIMUM
FLIGHT LEVEL WINDS OF 54 KT AND A SURFACE PRESSURE OF 1002 MB...A
DROP OF 5 MB IN AN HOUR AND A HALF. THESE DATA INDICATE THAT THE
DEPRESSION HAS STRENGTHENED INTO THE FIFTH TROPICAL STORM OF THE
SEASON.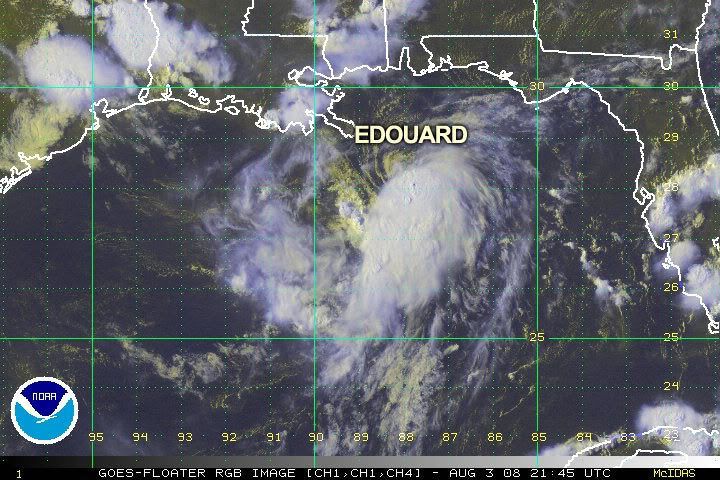 000
WTNT35 KNHC 032150
TCPAT5
BULLETIN
TROPICAL STORM EDOUARD SPECIAL ADVISORY NUMBER 2
NWS TPC/NATIONAL HURRICANE CENTER MIAMI FL AL052008
500 PM CDT SUN AUG 03 2008

...DEPRESSION STRENGTHENS TO A TROPICAL STORM...THE FIFTH OF THE
SEASON...

A TROPICAL STORM WARNING REMAINS IN EFFECT FOR THE LOUISIANA COAST
FROM THE MOUTH OF THE MISSISSIPPI RIVER WESTWARD TO INTRACOASTAL
CITY. A TROPICAL STORM WARNING MEANS THAT TROPICAL STORM CONDITIONS
ARE EXPECTED WITHIN THE WARNING AREA WITHIN THE NEXT 24 HOURS.

A TROPICAL STORM WATCH REMAINS IN EFFECT WEST OF INTRACOASTAL CITY
TO PORT OCONNOR TEXAS. A TROPICAL STORM WATCH MEANS THAT TROPICAL
STORM CONDITIONS ARE POSSIBLE WITHIN THE WATCH AREA...GENERALLY
WITHIN 36 HOURS.

FOR STORM INFORMATION SPECIFIC TO YOUR AREA...INCLUDING POSSIBLE
INLAND WATCHES AND WARNINGS...PLEASE MONITOR PRODUCTS ISSUED
BY YOUR LOCAL WEATHER OFFICE.

AT 500 PM CDT...2200Z...THE CENTER OF TROPICAL STORM EDOUARD WAS
LOCATED NEAR LATITUDE 28.1 NORTH...LONGITUDE 88.0 WEST OR ABOUT 95
MILES...155 KM...SOUTHEAST OF THE MOUTH OF THE MISSISSIPPI RIVER AND
ABOUT 420 MILES...675 KM...EAST OF GALVESTON TEXAS.

EDOUARD IS MOVING TOWARD THE WEST NEAR 6 MPH...9 KM/HR...AND
A GENERAL MOTION TOWARD THE WEST OR WEST-NORTHWEST IS FORECAST
DURING THE NEXT COUPLE OF DAYS. ON THE FORECAST TRACK...THE CENTER
OF THE CYCLONE WILL MOVE PARALLEL TO THE LOUISIANA COAST TONIGHT
AND MONDAY...AND APPROACH THE UPPER TEXAS COAST ON TUESDAY.

MAXIMUM SUSTAINED WINDS ARE NEAR 45 MPH...75 KM/HR...WITH HIGHER
GUSTS. SOME ADDITIONAL STRENGTHENING IS FORECAST DURING THE NEXT 24
HOURS...AND EDOUARD COULD BE NEARING HURRICANE STRENGTH BEFORE
LANDFALL.

TROPICAL STORM FORCE WINDS EXTEND OUTWARD UP TO 35 MILES...55 KM
FROM THE CENTER.

THE LATEST MINIMUM CENTRAL PRESSURE REPORTED BY RECONNAISSANCE
AIRCRAFT WAS 1002 MB...29.59 INCHES.

TIDES OF 2 TO 4 FT ABOVE NORMAL TIDE LEVELS CAN BE EXPECTED IN THE
WARNING AREA IN AREAS OF ONSHORE FLOW.

EDOUARD IS EXPECTED TO PRODUCE TOTAL RAIN ACCUMULATIONS OF 1 TO 2
INCHES ALONG THE THE LOUISIANA COAST WITH POSSIBLE ISOLATED MAXIMUM
AMOUNTS OF 3 INCHES. ONCE THE SYSTEM MOVES TO THE UPPER TEXAS
COAST...TOTAL RAIN ACCUMULATIONS OF 2 TO 4 INCHES WITH ISOLATED
MAXIMUM AMOUNTS OF 6 INCHES ARE POSSIBLE OVER SOUTHEAST TEXAS.

REPEATING THE 500 PM CDT POSITION...28.1 N...88.0 W. MOVEMENT
TOWARD...WEST NEAR 6 MPH. MAXIMUM SUSTAINED WINDS...45 MPH.
MINIMUM CENTRAL PRESSURE...1002 MB.

AN INTERMEDIATE ADVISORY WILL BE ISSUED BY THE NATIONAL HURRICANE
CENTER AT 700 PM CDT FOLLOWED BY THE NEXT COMPLETE ADVISORY AT 1000
PM CDT.

$$
-------------
Informação
Para o seguimento da época de furacões no Atlântico consulte também o tópico «Links Úteis e Climatologia da Época de Furacões no Atlântico» com dezenas de link's para imagens de satélite, modelos, observações, radares e serviços nacionais de meteorologia.
-------------
Aviso MeteoPT
As análises, previsões ou alertas neste forum são apenas a opinião dos utilizadores que as proferem e são da sua inteira responsabilidade.
Não são previsões ou alertas de entidades oficiais, salvo indicação em contrário, não devendo portanto ser usadas como tal.
Para previsões e alertas oficiais, consulte sempre os produtos do
NHC (National Hurricane Center)
ou outras entidades com essa função.