Registo

14 Mai 2012
Mensagens

305
Bom dia,
A Tempestade Tropical ERIN continua na sua rota ligeiramente orientada mais a norte do que o inicialmente previsto, mas sem aparente fortalecimento, o que poderá vir a acontecer durante as próximas horas.
O ERIN, neste momento, tem o seu quê de lotaria, dado que, dentro de aproximadamente 72 horas encontrará águas mais quentes, contudo, também é suposto encontrar shear mais forte e ar mais seco.
Aceitam-se apostas para o que irá acontecer...
000
WTNT45 KNHC 160832
TCDAT5

TROPICAL STORM ERIN DISCUSSION NUMBER 6
NWS NATIONAL HURRICANE CENTER MIAMI FL AL052013
500 AM AST FRI AUG 16 2013

ERIN REMAINS DISORGANIZED THIS MORNING...WITH THE LOW-LEVEL CENTER
PARTLY EXPOSED TO THE NORTHWEST OF THE MAIN CONVECTIVE CLUSTER.
SATELLITE INTENSITY ESTIMATES ARE 35 KT FROM TAFB AND 30 KT FROM
SAB...AND A CIMSS AMSU ESTIMATE NEAT 0400 UTC WAS 31 KT. THE
INITIAL INTENSITY REMAINS 35 KT FOR THIS ADVISORY.

THE INITIAL MOTION IS 295/14. ERIN IS CURRENTLY BEING STEERED BY A
LOW/MID-LEVEL RIDGE TO THE NORTH AND NORTHEAST. THE GLOBAL MODELS
FORECAST THIS RIDGE TO STRENGTHEN DURING THE NEXT 2-3 DAYS AS
MID/UPPER-LEVEL LOW SOUTH OF THE AZORES MOVES OFF TO THE NORTHEAST.
THE TRACK GUIDANCE IS IN FAIRLY GOOD AGREEMENT THAT ERIN WILL
CONTINUE WEST-NORTHWESTWARD FOR 36-48 HR...THEN TURN MORE WESTWARD
AS THE CYCLONE BECOME SHALLOWER AND STEERED MORE BY THE LOW-LEVEL
FLOW. SUBSEQUENTLY...THE GFS...UKMET...CANADIAN...AND NAVGEM
MODELS FORECAST A SECOND WEAKNESS TO DEVELOP IN THE RIDGE BETWEEN
50W-60W BY 120 HOURS...WHICH WOULD ALLOW ERIN TO TURN MORE
NORTHWARD. THE TRACK GUIDANCE ENVELOPE HAS AGAIN SHIFTED TO THE
NORTH...AND THE NEW TRACK FORECAST IS LIKEWISE SHIFTED NORTH OF THE
PREVIOUS FORECAST. HOWEVER...THE NEW TRACK IS STILL SOUTH OF THE
MODEL CONSENSUS.

WHILE ERIN IS CURRENTLY IN A LIGHT VERTICAL WIND SHEAR
ENVIRONMENT...THE CYCLONE IS CURRENTLY OVER SEA SURFACE
TEMPERATURES OF 25C-26C...AND METEOSAT AIRMASS IMAGERY SUGGESTS THE
CYCLONE IS APPROACHING AN AREA OF DRIER AIR. THE INTENSITY
GUIDANCE NOW FORECASTS SHORT-TERM INTENSIFICATION THAN 6 HOURS
AGO...AND THUS THE NEW INTENSITY FORECAST IS REDUCED FROM THAT OF
THE PREVIOUS ADVISORY. IN THE LONG TERM...AFTER 72 HOURS...ERIN IS
FORECAST TO REACH INCREASING SEA SURFACE TEMPERATURES. HOWEVER...
IT IS ALSO EXPECTED TO ENCOUNTER INCREASING SOUTHWESTERLY SHEAR AND
MORE DRY AIR. THE INTENSITY FORECAST IS THE SAME AS THE PREVIOUS
FORECAST IN SHOWING WEAKENING DURING THIS TIME. AN ALTERNATIVE
FORECAST SCENARIO IS THAT ERIN DEGENERATES TO A TROPICAL WAVE
BEFORE 120 HOURS...AS FORECAST BY ALL OF THE GLOBAL MODELS EXCEPT
THE GFS.


FORECAST POSITIONS AND MAX WINDS

INIT 16/0900Z 16.3N 30.5W 35 KT 40 MPH
12H 16/1800Z 17.3N 32.4W 35 KT 40 MPH
24H 17/0600Z 18.6N 34.7W 40 KT 45 MPH
36H 17/1800Z 19.6N 36.7W 40 KT 45 MPH
48H 18/0600Z 20.3N 38.7W 40 KT 45 MPH
72H 19/0600Z 21.0N 43.0W 40 KT 45 MPH
96H 20/0600Z 22.5N 47.5W 35 KT 40 MPH
120H 21/0600Z 24.5N 51.0W 30 KT 35 MPH

$$
FORECASTER BEVEN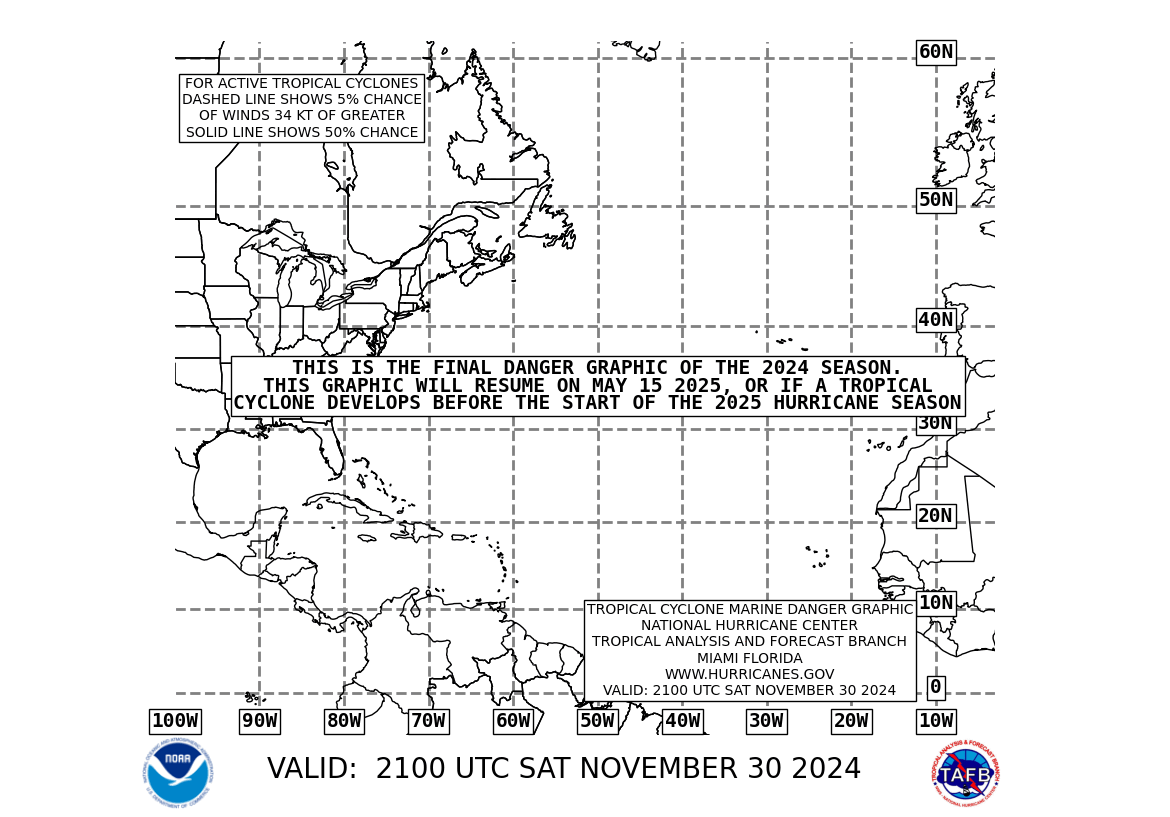 Bom resto de Sexta-feira.