Seguimento da Tempestade SubTropical JERRY no Atlântico em tópico dedicado conforme as regras do forum.
A TD#11 (Depressão SubTropical 11) a cerca de 1700km a Oeste dos Açores evolui para Tempestade SubTropical, sendo baptizada com o nome JERRY, o 10º ciclone tropical ou subtropical no Atlântico em 2007.
Os antecedentes do JERRY estão no tópico
Previsão e Seguimento Furacões
(Atlântico 2007) (Página 23)
Para agora está quase estacionária, mas prevê-se que se desloque para norte até ser absorvida por uma depressão extra-tropical dentro de 2 dias. À partida não constituirá portanto qualquer problema para os Açores.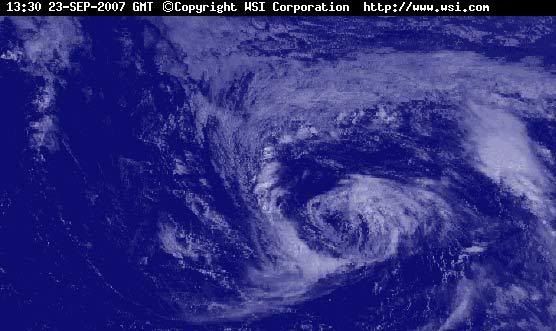 ...SUBTROPICAL DEPRESSION STRENGTHENS TO A SUBTROPICAL STORM...NO
THREAT TO LAND...

AT 1100 AM AST...1500Z...THE CENTER OF SUBTROPICAL STORM JERRY WAS
LOCATED NEAR LATITUDE 36.0 NORTH...LONGITUDE 46.3 WEST OR ABOUT 1070
MILES...1725 KM...WEST OF THE AZORES.

THE STORM IS NEARLY STATIONARY...BUT A SLOW NORTH-NORTHEASTWARD
MOTION IS EXPECTED TO BEGIN LATER TODAY WITH AN INCREASE IN FORWARD
SPEED BY TONIGHT OR EARLY ON MONDAY. ON THIS TRACK THE STORM WILL
BE MOVING OVER THE OPEN WATERS OF THE NORTH CENTRAL ATLANTIC...WELL
TO THE WEST OF THE AZORES.

MAXIMUM SUSTAINED WINDS ARE NEAR 40 MPH...65 KM/HR...WITH HIGHER
GUSTS. SOME STRENGTHENING IS FORECAST DURING THE NEXT 24
HOURS...AND JERRY IS LIKELY TO ACQUIRE TROPICAL CHARACTERISTICS
LATER TODAY.

WINDS OF 40 MPH EXTEND OUTWARD UP TO 105 MILES...165 KM FROM THE
CENTER.

ESTIMATED MINIMUM CENTRAL PRESSURE IS 1004 MB...29.65 INCHES.

REPEATING THE 1100 AM AST POSITION...36.0 N...46.3 W. MOVEMENT...
STATIONARY. MAXIMUM SUSTAINED WINDS...40 MPH. MINIMUM CENTRAL
PRESSURE...1004 MB.
AN 0807 UTC QUIKSCAT PASS INDICATED THAT THE MAXIMUM WINDS IN THE
CIRCULATION ARE AT LEAST 35 KT AND SATELLITE CLASSIFICATIONS GIVE A
SUBTROPICAL T-NUMBER OF 2.5 USING THE HEBERT-POTEAT METHOD. THE
SYSTEM IS THEREFORE UPGRADED TO SUBTROPICAL STORM JERRY. THE
CYCLONE LACKS A WELL-DEFINED INNER CORE WITH MULTIPLE LOW-CLOUD
SWIRLS NEAR THE ESTIMATED CENTER. THERE IS A NARROW WINDOW OF
OPPORTUNITY FOR THE SYSTEM TO ACQUIRE TROPICAL CHARACTERISTICS AND
TO STRENGTHEN FURTHER. HOWEVER...COOLING SEA SURFACE TEMPERATURES
AND INCREASING SHEAR WILL PROBABLY LIMIT THE INTENSIFICATION
PROCESS. GLOBAL MODELS SHOW A LARGE AND VIGOROUS EXTRATROPICAL
CYCLONE OVERTAKING JERRY WITHIN 48 HOURS...SO THE SYSTEM IS LIKELY
TO BECOME ABSORBED BY THIS LARGER SYSTEM IN A COUPLE OF DAYS.

THERE HAS BEEN LITTLE NET MOTION OVER THE PAST SEVERAL HOURS AS
JERRY IS STILL EMBEDDED WITHIN A BROADER CYCLONIC CIRCULATION.
HOWEVER...AS A STRONG 500 MB TROUGH MOVES OFF THE CANADIAN
MARITIMES TONIGHT AND EARLY MONDAY...THE SOUTH-SOUTHWESTERLY
STEERING CURRENT WILL GRADUALLY INCREASE. THIS SHOULD PULL JERRY
TOWARD HIGHER LATITUDES BEFORE IT BECOMES ABSORBED. THIS IS
SIMILAR TO THE PREVIOUS NHC FORECAST...AND ABOUT IN THE MIDDLE OF
THE TRACK GUIDANCE SUITE.